Significant Mechanical Changes in Jason Heyward's New Swing
Off the Bench recently ran a post titled Former College Hitting Coach Breaks Down Jason Heyward's Swing. Seeing as I love Jason Heyward and it was MY former college hitting coach doing the breakdown, I gave it a close read.
I found I agreed with most of the major points about approach, but we differed in analysis of the necessary biomechanical changes. Kiriakedes stressed the need for Heyward to "find his athleticism," but watching this Spring, I believe he's already made significant changes that allow it to shine through. Compared to the mess of a swing Heyward brought to the ballpark last season, he's a veritable Adonis (Garcia) at the plate right now.
Where Kiriakedes saw hand placement and a more open stance as the key, I believe Heyward has done more. He appears to have changed the foundation upon which his swing is built. As such, I decided to give the swing a second viewing and take some notes. For simplicity (and because I'm lazy), I'm going to refer to the 2016 swing as the Old Swing (OS) and the 2017 swing as the New Swing (NS).  Below I've included a copy of the video I used and encourage you to watch it while you read.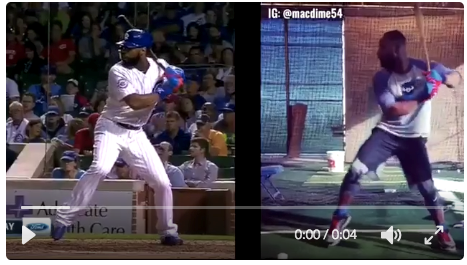 The first thing that jumped out to me was the starting position of Heyward's right hip as he begins and finishes his stride. In OS, you can see that the pelvis is more closed off and his right hip is in more internally rotated compared the NS. I think that this simple pre-swing change corrects many of the mechanical errors that plagued the OS. Beginning his front hip in relative external rotation gives his body more available range of motion to work with, as the front hip requires rapid internal rotation to generate a powerful swing.
To continue reading the 800 more words on Jason Heyward's New Swing, please check out Off The Bench Baseball.